(This is post #1 for today)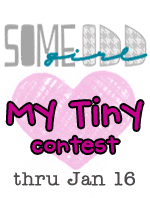 What is this all about? Well let me tell ya!
Kristy & her brilliant significant other decided to start a contest for the Some Odd Girl Tinies!
Here is the image "Tobie & his dog" (which was a freebie at the SOG site) that I made to represent two special individuals (actually three) in my life.
Meet my 3 yr old son Reade......yup, snotty nose & all.
Do u know how hard it is to get a child to hold a card, close to their face AND smile! (note the indented cheek...lol)
As you can see from the pic below (way below- haha), I colored his clothes to look like the clothes my son was wearing today!
And the dog with Tobie, represents our dog Koda. It also looks exactly like our other dog Roxy. Both girls and not related. Different parents!
Do u know how hard it is to get one dog to sit still, NEVER MIND both dogs. LMAO
I bought this puppy bone ribbon AGES ago & thought it was the perfect accent for my boy card with BG papers. A couple buttons, 'friends' charm & airplane eyelets & we're done!
Oh ya, I also added some green & blue stickles to the edges of some of the papers. I just bought these in the states the other day......the blue & green stickles/glitter glue are together in one tube swirled around. It is sooooooooo totally cool.
***********************
Now as the SOG GDT this month, Kristy has put together a few questions in order for people to get to know me better: I thought I'd share it here with all of you as well!
My fave color is brown. Does this represent my personality?.....perhaps......I'm a country girl at heart, grew up on a farm, small town living. Everything was made of wood in our house, even my dad became a wood worker of sorts---building furniture & painting them brown. Perhaps it grew on me. To this day, I am drawn to brown shades, however have been told I look good in yellow! lol
Yes, it's kinda all over the place, like my cards. I am not usually a clean cut, mod type person. I tend to change things up in my life ALL the time. Hubby hates when he comes home and the living room is changed around AGAIN. haha. I like to add lotsa embellies to my cards, which also resembles my home decor of a 'whole lot going on'....not just one style; but dress/clothes wise, I am as plain as they come. Sweats & a T !! That's me!
Grocery shopping. Sounds corny I know (especially lugging 3 kids for the 1.5 hr ride to the big city-better deals).... but spending a whole wack of money on groceries & just knowing that for the next month we have enough food to make some healthy meals, makes me happy. Means hubby & I are providing well for our family.
Ice Cream Tia. I haven't made a card with her yet, waiting for summer, you know. Cuz when I was growing up I always had a small vanilla cone dipped in chocolate almost every day after school. Then we I was old enough to get a job, one of my first places of employment was at that SAME ice cream store. MMMmmmmmmmm I love my ice cream!
I also do scrapbooking. Tradtional & digital, but this has kinda fell at the wasteside since finding blogland. To give you an idea, one of my last scrapbooking pages was when my 3 yr old was 9 months! YA! Pretty bad.
I dunno, really. It just comes. I am not an artistic person by any means, but seeing all the lovely creations in blogland really gets me inspired to improve, to try a different style, to try a different color combo, to make something other than a card. I have had the privilege to be on some DT's with some amazingly talented ladies who inspire me daily with their kind words & fresh creations!!! (mwah) Also, when you have a good image to work with (like SOG digis), the inspiration just falls into place. ACTUALLY, I was thinking the other day, that it was the first SOG blog hop (was it a hop? where each SOG DT member shared a tip) that intrigued me to improve on my coloring & purchase some copics for skin & hair tones. I will never forget the feedback all the ladies gave me when I commented on their creations. I remember jumping back to that hop when I wondered what color copic I should use next!!! Pretty cool hey?!