HEY EVERYONE!
Just wanted to let you know that this week,
Some Odd Gir
l is showcasing some sneak peeks of the new Clear Stamps coming out, just in time for the holiday season!
Pre-orders will be available today & you will get $1.00 off the normal price !
Official sale starts on Sept 19th.
You simply must hop over
HERE
to get a good look at all the delicious eye candy the girlz have cooked up.
I, on the other hand, am still waiting for my stamps to arrive!! (
Are we in the midst of a postal strike again in Canada?)
Pfftp!
As soon as my stamps arrive, you can bet I'll be getting inky with them & then showcasing my creations right here for you all to see!!
Til then. Stay ODD!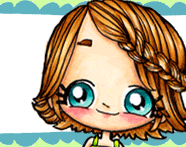 ***************************************
So what's about this DT call you ask:
LET'S INK IT UP
monthly challenge is having a DT call with an anything goes creation to be submitted.
ReMeMBeR:
ONLY USE RUBBER STAMPS
*************************************
And my card:
I figured since I had you here, I may as well show you what I made right!??!!?
It's Snow White. .......
............without the Seven Dwarfs!
When I saw the sketch at
Just Magnolia & hAnglar stAnglar
I knew I could not pass up the opportunity to play along! I got out my Maggies and got to work creating a princess, happy birthday card.
Boy it has been quite sometime since I created an easle card & let me tell you, I sure miss them!
Can you see my wee crown there beneath the flowers?!! That was my finishing touch.
Thanks for stopping by today!