sponge it up, rip er off, cut it out, water it down and crumple it about......whatever you do best.........do it and bring it over to our challenge, cuz we wanna see some distressin' goin' on!!
Our sponsors this time round are our monthly sponsor of :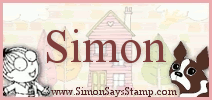 AND
I have used the image Fall Blessings from Stitchy. Isn't it a beautiful image? Ok, so it's not fall, but it's still a gorgeous image for any occasion I'd say. The outside chipboard pieces say JUST & the inside says BECAUSE.
I have used the spotlighting technique on the flowers attached to the cross & I added some seam binding behind the flowers cuz there is actually ribbon in the image, as you can see by the orange part beside the flowers. How 3D is that???
I used my Tim Holtz distressing tool and sponged almost every single paper withTim Holtz Vintage Photo distress ink pad.
Challenges for my card:
*******************
BEFORE YOU GO ANYWHERE.....
I wanted to share this bit of blog candy with you........
She's new to blogland so she's "kicking into gear" !!
This is what she is offering...
And she'll pay the shipping of your stuffs!!
WooHOO!!
Check it out, I did!
*****************************************