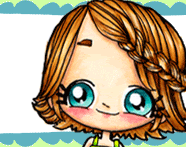 YUP! FOR REAL!!!!
How super duper stoked am I?!?!?!?
Ever since I found Kristy's images, I knew I wanted to be on her team!
I have dreamt about it! Literally, dreamt of these cute images!
After writing in one of my posts (a while back) about wanting to pursue teams that truly inspire me..............when the opportunity to be "ODD" presented itself, I jumped all over it like 'white on rice'. LOL!!! I sent my info & here I am!
Now, getting to be ODD this term has meant that I had to make some sacrifices & therefore I am saddened to say that I am no longer part of the Totally Tilda team. Don't get me wrong, Tildas/Magnolias still DO inspire me, I just wanted to try my hand at a 'new'.
I love my Tilda Girlz & wish them all the best of luck!


Now onto my creation(s) for today! SOME ODD GIRL creations that is!! (*jumps for joy*)
Kristy has come up with some awesome, amazing, suh-weet images for us to start this term & over at the
Some Odd Girl
(Challenge blog)
we are doing daily presentations/sneak peeks of this new line along with DT introductions. You don't want to miss it, cuz there's always that little extra GIVEAWAY for all who leave comments!
WELCOME TO DAY 2 of the new releases!
Today I am presenting you with Bookbag Tobie.
How cute is he right?! He is soooooooooooooo my son, who's only 3, but still......this is sooooooooo him when he starts kindergarten! I decided to make a corner book mark, for purely selfish reasons......I needed one for a book I'm reading- conincidentally enough, about disciplining your toddler properly! LOL
I used papers from a school paper pack I bought a couple months back & abc, 123 stickers are my scrapbooking stash. The apple is a creation from my cricut machine that I then dry embossed!
My next creation for you to drool over is Bookish Tia! And she is soooooooooooooooooo my daughter, thus I could not pass up the opportunity to put BOTH of these glorious children on a card together ! My interpretation is that my daughter has got her little brother carrying her books.
The sentiment "O b-r-other" are wee blocks from mine & my daughters' stash. I purposefully dropped the 'r' down so it can either read "O brother" or "O bother" (which a younger brother can be-haha).
Now, if you simply can't wait to get your hands on some of Kristy's AmaZinG images/stamps, feel free to pop on over to the Some Odd Girl Store to take a look around and maybe even buy a few stamps to get started....BEEEECAAAUUUUUSEEEEE she has a sale on!! Yup a SALE to celebrate oh so many things!
Also, if you like my Chibi at the top of my blog.............and want one of those for yourself..........you can hop over here
Get Chibi'd !
to get more information. I am still in desperate need of one of these for my daughter......heck the whole family.........I will have to get on that!!
((these cards are uploaded to my scrapbook.com gallery HERE, splitcoaststampers gallery HERE & Two Peas in a Bucket HERE))
Challenges for my bookmark
:
**********************************************