We'll start with the unfinished business............
A while back, I posted about how I was giving my daughters room a makeover.
Now I can't find that post & the 'before' pictures are also gone off my camera---oops probly deleted!!! Anywho, I have the 'after' pics here.
This is a little cubby in one corner of her room, wuz once filled with paper trays, a messy desk, barbies & barbie such things (van, clothes, etc, etc) & the walls were plastered with JONAS brothers posters.
Now it is a comfortable nook for reading, writing or just hanging out in. I put up shelves for the books she chose to keep & bought little baskets for her doo-dads & a moon chair. Yup, walls are pink and will reamain so until she is 18 or until I get the energy to switch it up.
(Pic below) This is to the left of her doorway. A new 'trendy' clock, a bulliten board and a cool new hamper all fit in nicely with the 'hip & rad' feel of her room.
ALSO...............................
...remember I posted about our guppies having babies.............like 20 or so, that I successfully transferred to a little fishtank big enough for them to grow up in until they can withstand the swirly motion of the 'big tanks' filter system.............................(
pic can be seen here)
DH decided he was taking over care of the little fishes and dumped them all into the big tank about 3 weeks ago. Needless to say.......we have two survivors! Poor little things. I didn't talk to hubby for a whole day because of what he did and I told him to keep his hands off from now on!!! RIP sweeties
A FUNNY.........................
You know you better get control of your crafting supplies when your puppy has pearls stuck to her lip.
Kinda looks like a mole.
Very Cindy Crawford, I'd say!
We'll call her Roxy (her name) Crawford.
FINALLY..............................
As for my "Creative Writer" award I recently gave out to those who chose to accept it, I was to tell 6 truths & a lie or something of that nature..............WELL, the lie is that I used to work at Hooters. I NEVER DID. My weight is correct, my fav color is brown and all the rest of it is true, except hooters....I dunno, do I consider this a compliment?!! Bwahhahahaa!!
***************************************
AS FOR MY EXCITING NEWS............
Miss Sugar of Die Cut Dreams Challenge blog, Die Cut Dreams Christmas Club Challenge blog & the new Totally Tilda Challenge blog has asked me if I wanted to join the Totally Tilda DT!!!
OF COURSE I ACCEPTED!!!!!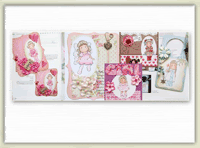 So keep your eyes peeled for a candy giveaway going up on my blog in the Very Near Future!!
BTW- here's a sneak peak of my DT card for my first challenge [challenge #3] at Totally Tilda !!
Thanks for popping by today! See you soon!