Imagine my surprise when Miss Susie Sugar asked lil ol' me to be on the
Totally Tilda
DT!!
I was honored to have been asked and flabergasted to be amungst such talent.
Here's to hoping I don't disappoint!

TO CELEBRATE I AM HAVNG SOME BLOG CANDY .....
HOPING TO BE POSTED WITHIN THE NEXT WEEK (OR TWO)!!!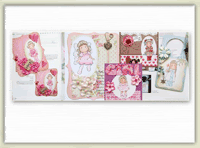 STITCHING- real or faux !
So get out those machines, pens, pencils, markers, needles & thread & start creating.
REMEMBER- your creation must have a Tilda on it!!!
And Ta-Da.............here is my creation!
I took the challenge over at the
Magnolia-icious Highlites Blog
seriously and immediately started creating my first eva T-Slide Card! Phew, I got 'er done with some bumps and brusies along the way, but done none-the-less!!
The papers are from CTMH 'Tickled Pink - Scrapbooking kit'. I came with wicked papers, a stamp set of matching designs (flowers, circles, stems & such) as well as precut white cardstock flowers, circles, stems & such. So all I had to do was stamp on the precut flower shape with the matching flower shape stamp and VOILA!! Magic happened!!!
Papertake Weekly
-
old
- CTMH papers,
new
-(to me) Tilda image,
borrowed
- hubbys sewing machine,
blue
- flowers